L: 29.00" W: 9.875" WB: 15.50"

Regular price

Sale price

$260

Save $-260

Unit price

per

L: 32.00" W: 10.00" WB: 17.00"

Regular price

Sale price

$270

Save $-270

Unit price

per
Skateboard Series
A pairing of boards based on similarities in their shapes, and disciplines of skateboarding.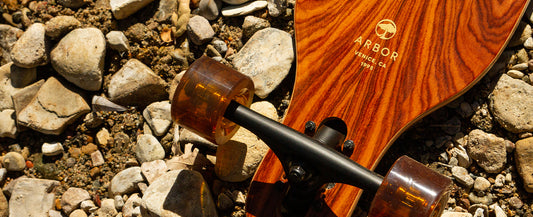 The pinnacle of our line, built to highlight the renewable, crafted, natural style of our signature wood finish since 1995.
View Series
Smaller street shapes for the younger ripper to learn on and grow with. Featuring Woodcut Artwork by Brian Reedy.
View Series
A full quiver of surf inspired guns for down-the-line cruising, slashing banks, and old school carving.
View Series
Raw and powerful Greyson Fletcher approaches skating with a chaotic spontaneity.
VIEW SERIES
Arbor's new Surfskates are an ultra-collaborative project with Carver trucks, who started the surfskate movement, and two of today's most innovative surfboard shapers, Ryan Lovelace and Tyler Warren.
View Series
San Diego OG Shuriken Shanon continues to bring style and power to the Arbor Collective.
View Series
Skateboard Collections
An offering of different board shapes grouped together based on an art or material stories.